One of the easiest meals to make from leftover rice and Japanese curry is "kare omuraisu" – a tasty dish of chicken and rice wrapped in a simple egg omelet. In Japan the dish can be found in coffee shops and department stores, often showing up on the children's menu. While typically the omelet is filled with just chicken, onions, and rice, adding curry to the mix takes the humble omuraisu to a whole new level.
To make curry chicken omuraisu, you will need aprroxomately 1/4 cup each of leftover chicken curry and rice. Additionally you will need 3 eggs, 1 Tbs butter, t Tbs cooking oil, plus ketchup and/or tonkatsu sauce for the topping.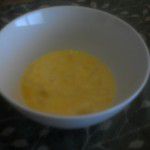 Crack the 3 eggs put the contents in a small bowl. Scrambled thoroughly.

Heat the 1 Tbs cooking oil and 1 Tbs butter in a saute pan over medium heat. Once the butter is melted pour in the eggs. Let the eggs cook for up to a minute undisturbed or until the bottom starts to set. With a wooden spoon or heat resistant spatula, gently push the cooked edges of the eggs towards the middle of the pan, letting uncooked egg mixture to run underneath. Continue doing this until there is no more liquid running under the eggs. Let the eggs continue to cook gently until the bottom side is lightly brown.

Slide the omelet onto a plate. Meanwhile mix the rice and chicken curry in a microwave proof bowl. Microwave approximately 45 seconds or until piping hot. Place the chicken curry rice on one half of the omelet.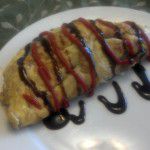 Fold over the omelet over the chicken curry rice. Squirt top with ketchup and optionally tonkatsu sauce. Oishi! Enjoy!